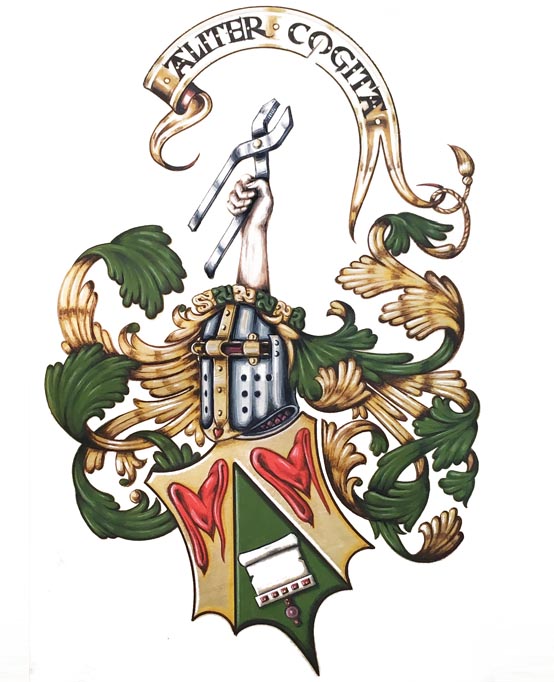 Arms of Claes Zangenberg, 18th Baron Of Pittenweem
Granted by The Court of the Lord Lyon, 27th June 2017 and registered on page 49 of the 93rd volume of the Public Register Of All Arms and Bearings in Scotland. Shield of per pile reversed Or and Vert, in chief two Maunches Gules and in base a scroll Argent with seal pendant Proper. A baronial helmet with a mantling of Vert doubled Or. In the crest a dexter hand couped holding a pair of open pliers Proper. The Maunches and the scroll is a reference to the legal career of the armiger. The baronial helmet is appropriate to the Dignity of a Baron in the Baronage of Scotland. The pliers is a pun on the German origin of the Zangenberg name.
See full Letter Patent
Details of arms from Letter Patent
Arms of Thomas Erskine, 1st Earl of Kellie and 2nd Lord Baron of Pittenweem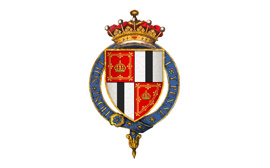 Quarterly: 1st and 4th, gules, the Royal Crown of Scotland within a double tressure flory counterflory or, 2nd and 3rd, argent, a pale sable.
Arms of the Royal Burgh of Pittenweem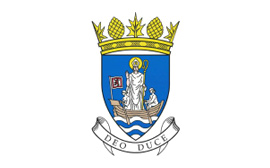 Azure, in the sea a galley with her oars in action Argent, and therein standing the figure of Saint Adrian with long garments close girt, and a mitre on his head Proper, holding in his sinister hand a crosier Or; on the stern a flag disveloped Argent, charged with the Royal Arms of Scotland.
The badge of the Clan Erskine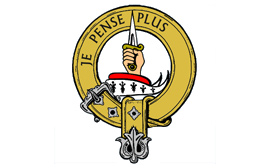 On a baronial chapeau Gules furred Ermine a hand holding up a skene in pale Argent, hilted and pommelled or.
William Baird, 14th Baron of Pittenweem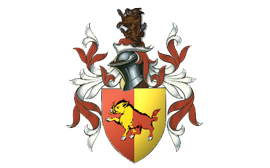 By Letter Patent 1867. Parted per pale gules and or, a boar passant counterchanged